WELCOME TO THE OFFICIAL WEBSITE OF JAPANESE CANDY ONLINE!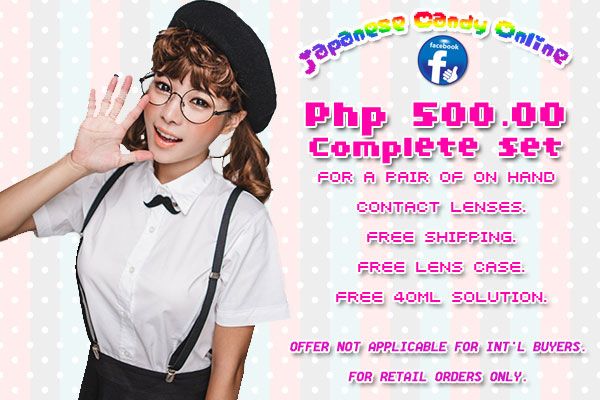 PRODUCT SPECIFICATIONS: All products distributed by JapaneseCandy are 100% AUTHENTIC imported from KOREA and JAPAN, authorized by FDA (Food and Drug Administration), MHLW (Japan Ministry of Health, Labour and Welfare), CE (Conformité Européenne – Europe) Safety Certified, produced under ISO International Standards Quality Control, GENUINE, SAFE and LEGAL.
We ship internationally. Our current customers mainly from Philippines, USA, Canada, Australia, U.K, Russia, Italy, Singapore, Japan, Qatar, Bahrain, United Arab Emirates, Brazil, Spain, Peru, Mexico, etc.
For inquiries, you may reach us through:


jconlineph@gmail.com


+63 917 629 0624

bigdollyeyes

lovingmyeyes
HAPPY SHOPPING!
(THIS SITE IS BEST VIEWED WITH INTERNET EXPLORER. SITE MIGHT APPEAR MESSED UP WITH MOZILLA FIREFOX and OTHERS)

UPDATES
*If your eye grades & prescriptions or if the lenses & items you want are not available in-stock / on hand, you can only pre-order them. Please check our open pre-order schedules below:
*IMPORTANT RULE FOR PRE-ORDER ITEMS: YOU SHOULD BE WILLING TO WAIT & BE MORE PATIENT. Delays may happen caused by the factory & customs clearance.
*SHIPMENT SCHEDULE: 2-3 WORKING DAYS AFTER THE ARRIVAL OF GOODS HERE.

*DELIVERY TIME: Shipping will take 1-3 working days (Domestic) & 15-36 working days (International via Standard Shipping) except for Mexico and South America that takes 30-100 days to deliver. EMS (Express Mail Service International) will take 10-14 working days still depending on your location. Please be advised that we are not in control of Customs clearance delays & your country's processing time on releasing/delivering packages. For International buyers, please contact & check at your post office if you think your package is already taking too long.
(JAPANESE HEALTH & BEAUTY PRODUCTS PRE-ORDER - CLOSED)
CLOSING DATE =
EXPECTED DATE OF ARRIVAL HERE =
(EOS BATCH #25 CONTACT LENSES PRE-ORDER - OPEN)
CLOSING DATE = JANUARY 6, 2014
EXPECTED DATE OF ARRIVAL HERE = AROUND 1~2 MONTHS AFTER THE CLOSING DATE
TO KNOW YOUR ORDER STATUS, PLEASE CHECK IT OUT HERE OR EMAIL US DIRECTLY.